0
We're on a mission to assist 1 million hearts by 2025






Why not 'date us'...
We're here to support you in your love journey - whether that is with tools from our Love Library, the at-home online learning programs, or personalized 1:1 coaching - you will gain confidence and clarity, learn 'relationship ready' skills, and be a smarter safer online dater. Just imagine how you'll feel when you've found your one...
If not now... when?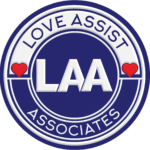 Find your authentic love connection now!
Let's Talk - 15 minute FREE consult!